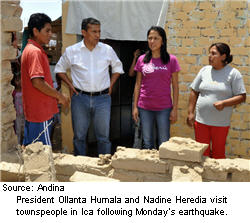 President Ollanta Humala, back from a trip to Europe, visited the city of Ica on Tuesday to inspect damage from a recent earthquake.
Early Monday morning, Ica was hit by a magnitude 6.3 earthquake. The quake didn't cause any major damage, but more than 100 people were injured, according to the government.
In August 2007,, the department of Ica was the site of a magnitude 8 earthquake that rocked the region, resulting in hundreds of deaths.  The town and port of Pisco was one of the hardest hit and donations, volunteers and government money poured in —disorganization and rampant corruption, however, made progress slow.
Shortly after taking office in July this year, Humala sent the military to Pisco to work on the reconstruction. On Tuesday, Humala said: "The people of Ica are prepared for quakes. The proof is that there are no deaths."
"We have to recognize that the local government as well as the regional government and civil defense, have taken the adequate measures so there wasn't an emergency situation with irreparable losses," Humala said, according to daily La Republica.
Humala's visit to Ica follows a trip to Europe where he met with Spanish government leaders and participated in the World Economic Forum in Davos, Switzerland.