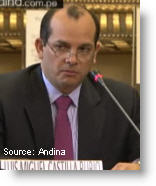 Peru's government said Wednesday that a decision by ratings agency Standard & Poor's to upgrade the country's credit rating is a recognition of President Ollanta Humala's decisions during the first month of his administration.
Economy and Finance minister Luis Miguel Castilla called the upgrade a "big backing of the president's policies in his July 28 message and which were outlined in the message by the cabinet chief in Congress," state news agency Andina reported.
On Tuesday, Standard & Poor's upgraded Peru's rating to BBB from BBB-. The rating, a forward-looking opinion on credit risk, is the second lowest risk rating offered by S&P. The agency said the upgrading was based on its outlook that Peru will maintain its strong economic growth thanks to pragmatic and flexible government policies.
Humala, who has been in office for just over a month, has raised uncertainty among investors concerned about his plans to increase the state's role in the economy. Those worries have been partially alleviated thanks to his cabinet appointments and policy moves in the past month.
"This improvement in the credit rating represents a ratification of confidence from international investors on the fundamentals of the Peruvian economy," Castilla said. "In the region, we are only below Chile, but we are above Brazil and the same level as Mexico."
"While this improvement doesn't make us immune to an eventual extreme [global] crisis, we are prepared to take it on, if it should occur," Castilla said.