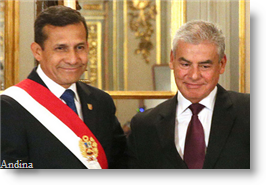 President Ollanta Humala on Thursday swore in a new premier, the fourth cabinet chief to take office since July 2011.
Humala appointed Cesar Villanueva, who was the president of Peru's San Martin region, to lead his cabinet, replacing Juan Jimenez.
The change in the premier was announced earlier this week by Jimenez, a human rights lawyer who had previously served as justice minister. Humala's decision to change his cabinet chief came as the president's popularity has plummeted in recent months. The most recent poll had Humala's national approval rating at 24 percent.
Observers say that support for Humala has eroded in part due to the perception that he isn't doing enough to curb crime and isn't fulfilling other campaign promises. The decline is also likely due to a slowdown in the economy, which has been due to a fall in global metal prices that has hurt exports.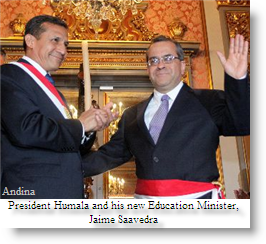 The resignation of Jimenez also followed his comments that concerns about crime were due to "hysteria." The comment was criticized by opposition politicians and Jimenez later said that it was "inappropriate."
Villanueva told local media that he would give a lot of priority to fighting crime in Lima and other Peruvian cities. Villanueva is a well-regarded regional politician. Analysts don't expect his appointment will result in any major changes to Humala's administration.
Despite immediate criticism from many in the opposition that Humala's choices were too little, economist and presidential candidate Pedro Pablo Kuczynski said he approved the appointments and that he had seen the efficiency with which Premier Villanueva had governed the San Martin region.
The only other cabinet member to be replaced was the Minister of Education. Humala appointed Jaime Saavedra as the new Education Minister, succeeding Patricia Salas.
According to RPP radio, Saavedra has is an economist with a PhD from Columbia University. He has worked at the World Bank and been a professor at Peru's prestigious Catholic University.