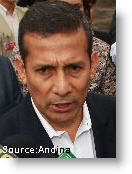 President Ollanta Humala threw his support behind his cabinet chief, Oscar Valdes, on Thursday following a call by legislators from his ruling party for the Premier's resignation.
Lawmakers from Humala's Gana Peru party who represent the southern region of Cusco demanded the resignation of Valdes on Wednesday due to the government's handling of anti-mining conflicts in the region.
Protests erupted against Xstrata's Tintaya mine last week and turned deadly on Monday as confrontations between police and protesters resulted in two deaths. Reports have said that some 70 people were also injured, while a prosecutor was temporarily kidnapped by protesters.
Valdes' office is responsible for handling social conflicts, but the legislators say that he has neglected this work. They blame him for taking a military-like approach to resolving conflicts, rather than opting for dialogue with protesters.
Humala said he had no plans to change his cabinet as a result of the protests, daily Peru.21 reported. He said he is open to confrontation "because we have to bring order to the country," in comments reported by the daily.
Community protests late last year against Newmont Mining's Minas Conga project led to a deep cabinet shuffle just a few months after Humala took office. Valdes, who was then the Interior minister, was appointed cabinet chief.