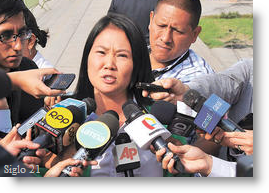 Former presidential candidate Keiko Fujimori said her party would return a campaign donation made by an individual that the US government has added to its "Kingpin List" this week, over allegations of laundering money for drug traffickers.
Luis Calle Quiros donated 41,625 soles (approximately $15,000) to Fujimori's unsuccessful 2011 presidential run. Fujimori was defeated by President Ollanta Humala in a second-round runoff vote.
Fujimori said that the inclusion of Calle in the list was a surprise, according to daily El Comercio.
"The people who have donated to the electoral campaign had been previously screened and reviewed by the financial team. At the time, two years ago, there weren't any questions about him," Fujimori said.  Although Fujimori said that she did not know Calle personally,  Calle is the commercial attorney for the son of an intimate friend of her father Alberto.
The US Department of Treasury announced Tuesday that it designated Calle, who has dual Spanish-Peruvian nationality, and his Spanish wife, Maria Rodriguez Badillo, to the list, as Specially Designated Narcotics Traffickers, known as SDNTs. Five companies owned or controlled by Calle, located in Spain and Peru, were also added to the list.
Their addition to the list means that US persons cannot conduct financial or commercial transactions with them or their companies. In addition, the US can freeze any of their assets that are currently in US jurisdiction.
The Treasury Department said Calle and his wife are longtime partners of Colombian money launder Isaac Perez Guberek Ravinovicz, who was added to the Kingpin List in July 2013.
"In coordination with Guberek Ravinovicz, Calle Quiros and Rodriguez Badillo would collect cash proceeds from narcotics sales at their offices in Madrid, Spain, and then funnel the money back to accounts controlled by Guberek Ravinovicz, who used these funds to pay narcotics traffickers in Colombia," the US government said.
Peru is the world's top cocaine producer, recently overtaking Colombia, which is now number two.
Keiko Fujimori is the daughter of jailed ex-President Alberto Fujimori, who is currently serving a 25 year prison sentence for human rights abuses and corruption during his 1990-2000 administration.