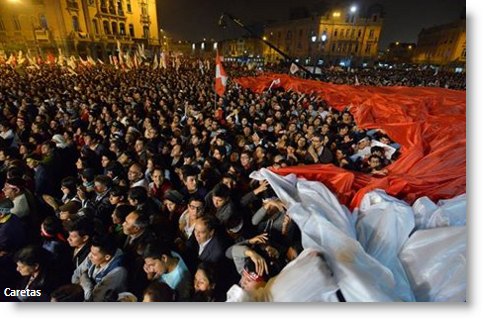 Thousands of people joined a march in downtown Lima yesterday to protest Keiko Fujimori's presidential candidacy, carrying banners and hand-made posters and chanting Keiko No Va.
The La Republica daily said 70,000 people joined the march between Plaza San Martin and Plaza Dos de Mayo, while Exitosa reported 30,000.
But by Lima's usually almost apathetic standards —in a city of 10 million—  it was a large crowd, reminiscent of the meeting led in 1987 by novelist Mario Vargas Llosa to protest President Alan Garcia's attempt to nationalize the private banking system.  Almost 30 years ago, the crowds packed the Plaza San Martin to overflowing, a mixed group of ladies in designer jeans, shop owners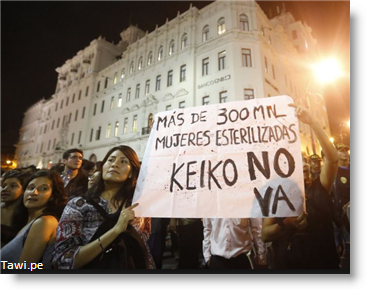 and taxi drivers.  The meeting launched several political careers, including that of Lourdes Flores of the Popular Christian Party, PPC, and of several in Vargas Llosa's own movement, Libertad.
The protest yesterday was against the Fujimori party's links to alleged drug traffickers and money launderers and the continued presence of members of her father's government who were involved in suppression of dissent and programs such as the forced sterilizations, which is only just being fully investigated and has yet to be heard in court.
The social media has taken on an important role for the campaign against Keiko Fujimori in this last month, as independent bloggers and  established media recall the 1990-2000 presidency of Alberto Fujimori and upload videos reporting events of corruption and court hearings after President Fujimori resigned.
Keiko Fujimori's party, Fuerza Popular, has gained a majority of the seats in Congress (73 of 130) to serve until 2021.  If Keiko wins the run-off on June 5, her party will have virtually full control of the government for the next five years. If Pedro Pablo Kuzcynsky wins the election his party will have an uphill climb to reach a consensus with her Fuerza Popular party.