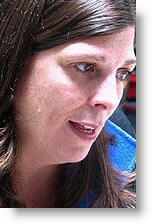 The Legal Defense Institute, IDL, issued a statement today in support of journalist Rosa Maria Palacios and in defense of freedom of speech, following the non-renewal of Palacios' nightly political program "Prensa Libre" by America TV.
Palacios, a lawyer –a graduate of the Catolica and the University of Texas at Austin– and prize-winning journalist whose program has appeared regularly for seven years and is noted for its high standards and impartiality, said she had abided fully by her contract and that the decision by the station not to renew her annual contract this week was political.
She was told Monday by America TV's director, Luis Miró-Quesada, that the decision was to use the time slot (week days 11pm to midnight) for a sports program.  No other scheduling was given for her program. Prensa Libre brought in the station's second highest ratings, after the Sunday political program Cuarto Poder.  She is also a radio journalist and currently has a late morning program on Radio Capital.
IDL said it believed the real reason was "intolerance of independent journalism" and a "continuation of the biased [pro-Fujimori] editorial line" of the El Comercio publishing group during the election campaign.  El Comercio has the majority control of the station, which it operates with its partner, the La Republica publishing group. 
IDL also expressed concern that an informational wall was being built up again, "very similar" to that operated by Alberto Fujimori and his intelligence chief Vladimiro Montesinos. "This is very serious," the statement said, given the current situation of a new government that had been the target of mud-slinging by most of the press during the election campaign. It also said the lack of independent and diversified information is "especially alarming" given the discussion of questionable decisions such as the illegal pardon for Alberto Fujimori and the corruption involving high-ranking members of the Apra government.
Yesterday, Mario Vargas Llosa wrote to Palacios to express his sadness "but not surprise" and that the closing of her program was the price to pay "for being honest, independent and talented, something that in Peru tends to tolerated with difficulty by the mediocre and dishonest who have so much influence in the communications media. But I am sure that thousands of Peruvians support you and are indignant about the abuse of which you are a victim."
On IDL's morning radio program, veteran journalist Cesar Levano, editor of La Primera, said he believed America TV had not renewed Prensa Libre on order or instructions of President Alan Garcia, to stop journalist investigations of the infamous PetroAudios case, part of the Business Track case now being heard in court.  Palacios had begun reporting on the case.
"Those who lost the elections want to win the post-war," Levano said, adding that "the press will try to boycott, sabotage and discredit" the new administration led by Ollanta Humala, who will be sworn in on July 28.  
On the same radio program, the Deputy Minister of Labor, Javier Barreda, recognized that there appeared to be a political reason for not renewing Palacios' program, but that "blaming the Government is an exaggeration."