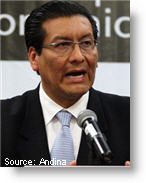 Peru's Minister of Transport and Communications, Carlos Paredes, said Friday that the government would be cancelling feasibility studies for a new international airport in Junin region, state news agency Andina reported.
"We are going to cancel the process for which we had planned to contract a consultant for technical studies," Paredes said.
The announcement followed a meeting with residents of the province of Jauja, who had protested this week against abandoning the already existing airport in Jauja for a new location.   The new airport for international flights, at the suggestion of the regional government, was to be located at Orcotuna, about 27km from Huancayo and halfway between Huancayo and Jauja, in the province of Concepción.
The Francisco Carlé airport in Jauja, which first opened in 1927 and has a 2870 meter runway, is used by small commercial aircraft and the military.   According to the president of the Junin region, Vladimiro Cerrón, there were reports in 1984 and 1995 in the Ministry of Transport suggesting a search for a new area for a larger airport, on the grounds that the Jauja facility has technical limitations.
Protesters blocked the Carretera Central, the principal highway linking the central Andean region to Lima, along the stretch between Jauja and Huancayo. Alex Gonzalez, 36, was killed and 40 people injured during clashes with police, while a police officer was kidnapped and later released by demonstrators.  The Archbishop of Huancayo, Mons. Pedro Barreto, said the violence was caused by people who had infiltrated the initially peaceful protest.
Protesters against the new airport say it would redirect resources initially planned for updating and modernizing the current Jauja airport.
Junin president Cerron has supported the development of the new airport, while the mayor of Jauja, Sabino Mayor, has accused Cerron of refusing to acknowledge a Transport Ministry report earlier this year suggesting the expansion of the current airport to accommodate international flights.  Minister Paredes has called on Cerron to restart talks with representatives of Jauja to avoid new conflicts.