This weekend the Peruvian government is scheduled to start a new system to control the transportation of chemicals used for producing cocaine, in the country's top two coca-growing regions, state news agency Andina reported.
Prime Minister Juan Jimenez said that a satellite system, and the use of GPS, will allow authorities to track the movement of chemicals used to process cocaine, such as acetone and sulfuric acid, to the Apurimac, Ene and Mantaro river valleys, known strategically as the VRAEM, and the Huallaga basin.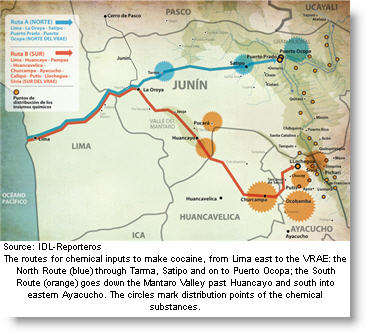 "The routes of the chemical supplies will be monitored with a very modern system, with radars and satellites," Jimenez said. "If a vehicle or cistern tanker veers off its route, it will be decommissioned."
The new system is part of a broader attempt by Peru's government to bring the country's drug trade under control after a decade of expansion.
Today, Peru is the world's biggest cocaine producer, along with Colombia. Its output of cocaine has increased steadily over the past decade as successive governments have been unsuccessful in curbing production.
President Ollanta Humala's administration has doubled-down on traditional anti-drugs tactics, including forced eradication of illicit coca crops, and has also pledged more alternative development and security in the isolated areas where coca production thrives.