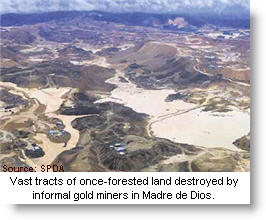 The Executive, in a move to bring widespread informal mining under control, has incorporated the activity into the Criminal Code and set sentence guidelines for convictions on charges of undertaking unauthorized exploration, extraction and development of mineral resources, and causing damage to the environment through such activities.
D.L. 1102, published Feb. 29 in the official gazette El Peruano, considers sentences of between four to eight years' imprisonment for these crimes, and up to 10 years on convictions for mining in unauthorized areas —natural reserves and peasant or indigenous community lands— as well as using river dredges, and contaminating irrigation or water systems used by humans.
The sentences also apply in the case of employing minors in the industry, and to government officials who grant fraudulent authorizations for such operations.
The financing of illegal mining, including the sale and distribution of equipment and products for the operations, is also now a crime.
Small mining and artisanal operations that are legally registered are now also held fully responsible in this new legislation for any negative environmental impact they may cause, according to mining and environmental laws, and are to be required to remedy the damages.
Although informal mining is the most notorious in the case of environmental damage —operating dredges on Amazonian tributaries and destroying miles of rainforest— small legal mining operations across the country have for many years escaped the more stringent supervision applied to the large and more visible mining operations.
The law will go into effect March 16, and illegal or informal miners as well as small mining operations are given 120 days to bring their operations into line with the new legislation.
Last month, on February 19, the Executive enacted D.L. 1100, which declares actions to be taken against illegal mining a national priority.  The actions include not only priority in documentary processes by the ministries of the Environment and of Energy and Mines but, more importantly, operations by military and police teams with ministry officials.
In November last year the Environment and Defense ministries, together with state attorneys, oversaw operations by the Peruvian Navy and police to destroy and impound 130 gold dredges in the Madre de Dios region, along the Inambari, Madre de Dios, Tambopata and Malinowski rivers.
Some 30,000 people are involved in the illegal mining industry, with some of its most menial workers earning more than five times the national minimum wage.