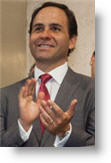 A Peruvian road show aimed at attracting foreign investors has exceeded expectations, according to the president of the group that organized the international trip.
Jose Antonio Blanco, the head of inPeru, said that government and business leaders participating in the road show met with more than 1,000 business representatives while in Dubai, Abu Dhabi, Frankfurt and London.
"For the number and quality of the meetings that we've had… over the past six days, we can say that our expectations have been exceeded," Blanco said in comments reported by state news agency Andina. "We're sure that we'll start to see the fruits very soon."
"We understand that various delegations are to visit us in Lima to learn more about the sectors that they are interested in," he added.
InPeru was set up last year to promote Peru abroad as a joint public-private initiative, which includes high-ranking public officials and executives from some of Peru's biggest businesses. Previous road shows have been held in the United States, Europe and Asia.
The group plans to travel to Japan and South Korea later this year for another chance at attracting investors to Peru.President Ollanta Humala has said last week that promoting investments in Peru is of "national interest."