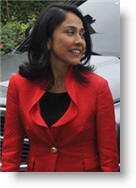 Peru's first lady, Nadine Heredia, is seen as the country's third most powerful person, according to a recent poll.
The Encuesta del Poder poll, by firm Ipsos Apoyo for magazine Peru Economico, ranked President Ollanta Humala as the most powerful, followed by his cabinet chief and political advisor, Salomon Lerner Ghitis.
Humala, a 49-year-old left-leaning former military officer, took office on July 28 for a five-year term.
Local media has pointed to Heredia's ranking, saying that it is the first time a woman has been ranked the third most powerful person in Peru.
Heredia, 35, is the international secretary of Humala's ruling Gana Peru party. She has long been a political advisor to Humala and regularly accompanies him on international meetings.
Also on the list are the president of Congress, Daniel Abugattas, in fourth place, followed by author and Nobel Prize winner Mario Vargas Llosa and businessman Dionisio Romero, the chairman of Banco de Credito, Peru's biggest bank.
The archbishop of Lima, Juan Luis Cipriani, is ranked seventh, followed by ex-President Alan Garcia, Finance Minister Luis Miguel Castilla, and former President Alejandro Toledo.
Others on the list include Roque Benavides, the chief executive of Peru's largest publicly-traded precious metals miner Buenaventura, businessman Mario Brescia, head of the large multi-industry Brescia Group, chef Gaston Acurio, and former presidential candidates Keiko Fujimori and Pedro Pablo Kuczynski.
The poll on the perception of the 30 most powerful people in the country is taken every year among readers and subscribers and a guest reader list of Peru Economico magazine, published by Felipe Ortiz de Zevallos.