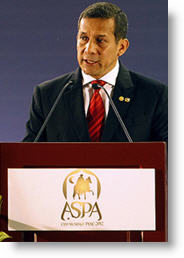 Leaders from 34 countries are in Lima Monday and Tuesday this week for the Third Summit of South American and Arab Countries, an event that began with business forum and continues with a political forum on trade and development initiatives.  ASPA's members are 12 South American and 22 Arab nations, and works with the League of Arab States and the Union of South American States, Unasur.
"This is an extraordinary opportunity," said President Ollanta Humala at the opening business forum, "for inclusive development" that can go beyond individual profitability to benefit people of both regions as a whole.
He said he believed it is imperative that both regions top seeing themselves as exporters of mainly raw materials and begin to create products with greater added value, a situation ideal for the transfer of technology and in which South America could benefit from the Arab experience in education and research. He also stressed the need to seek renewable energy sources for the future, and to work together to analyze the best solutions for production and management of water in the current global warming.
CEOs and prominent business executives from some 140 companies from both regions are attending the meeting, including Dubai-based port operator DP World —which operates Callao's South Terminal— and Brazilian oil producer Petrobras.
Foreign Relations ministers are meeting Monday, and on Tuesday the leaders will sign a Declaration of Lima, which was being honed in New York last week during UN General Assembly meetings.
Tight security measures for the events have been in place since the end of last week, with the government declaring Monday and Tuesday public holidays —banks, schools and shops are closed — encouraging people in Lima to leave the city for a four-day weekend.
National Police chief Raul Salazar said that some 10,000 police officers are guarding the streets of Lima as delegations from the 34 ASPA member countries meet. 
Salazar said that police will prevent any protests by state teachers and doctors from impacting the event, which will include a business forum at the Swissotel and a meeting of the heads of state at the National Theater and the Ministry of Culture. Doctors in the state health system and Sutep union teachers have been protesting in the Peruvian capital for higher pay, among other benefits.
"We must show a good image to the world," Salazar said, according to state news agency Andina.
Argentina's ambassador to Peru, Darío Alessandro, said the conference will be important in increasing integration and commercial activity between the two regions, which have currently have little trade.  President Cristina Fernandez is scheduled to be in Lima on Tuesday for the heads of state meeting.
Other leaders attending the event include Chile's Sebastian Piñera, Brazil's Dilma Rousseff, and Lebanon's president Michel Sleiman, as well as Jordan's King Abdullah Bin Al-Hussein,  Tunisia's Moncef Marzouki and Qatar's Hamad Bin Khalifa Al Thani.
ASPA was founded in 2004 at the initiative of Brazil's President Lula da Silva. The first summit was held in Brazil in 2007, followed by the summit in Qatar in 2009. Trade between both regions has nearly tripled since the organization was created,  up from $11 billion to $30 billion.