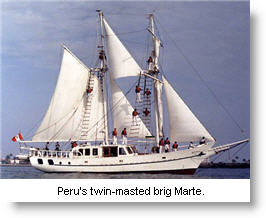 Twelve tall ships will set sail this Sunday from the port of Callao to Guayaquil, on the eleventh leg of South America's first tall ships race.
The regatta began February 2 in Rio de Janeiro, calling at the ports of Mar del Plata, Montevideo, Buenos Aires and Ushuaia before sailing round Cape Horn and north to Punta Arenas, Valparaiso and Antofagasta.  After Guayaquil, which they are scheduled to reach May 11, the ships will continue through the Panama Canal to Cartagena, La Guaira, Santo Domingo and finally Veracruz. The regatta ends June 28.
The race, Velas Sudamerica 2010, celebrates the bicentennial of the declaration of independence from Spain by Argentina, Chile, Colombia, Venezuela and Mexico in 1810.   The motto of the race is "on the winds of freedom."
Most of the vessels are navy training ships, except for the Dutch-registered barque Europa, which joined the race at Ushuaia and will leave the fleet after Ecuador, to head to the east coast of the US and then join the Great Lakes tall ships challenge. The Europa includes paying passengers as crew who sign up for hands-on traditional sailing holidays.
The Velas Sudamerica 2010 fleet includes Peru's twin-masted brig Marte, with 25 crew, as well as barques, windjammers and clippers, and Spain's grand four-masted schooner, the Juan Sebastian Elcano, with 232 crew.  Eight of the ships are South American.
The ships can be viewed in the port of Callao until 4pm on May 1. They will begin to set sail Sunday, May 2, from the Naval Base between 8:30 am and 1pm,  lining up at the head of San Lorenzo Island to then head north to Guayaquil.