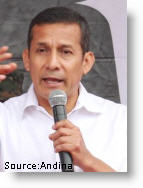 President Ollanta Humala described protests against a mining project in the north Andean region of Cajamarca this week as being politically motivated and not based on environmental concerns.
On Thursday, opponents of Newmont Mining's Minas Conga gold project took to the streets to renew calls for the government to cancel the initiative. Opponents, who have been led since last year by Cajamarca's regional president Gregorio Santos, say the project will have a serious impact on the local water supply.
The environmental impact study for Minas Conga, which was approved by President Garcia's administration in October 2010, called for draining a string of four Andean lakes and replacing them with reservoirs further downstream. The company and government both say the reservoirs will significantly increase the quantity and improve the quality of water for farmers and other residents. 
Following continuing protests, in February this year the government financed a survey by three independent, internationally recognized engineers. José Martins Carvalho of Portugal, and Rafael Fernández Rubio and Luis López García of Spain handed in their report in April, and made a series of recommendations to improve the project that include soil conservation goals and the saving of two of the lakes. They also suggest a multi-sector commission to oversee the improvements.    
Since the initial protests, however —when Santos and Cajamarca leaders were open to dialogue— the protesters have hardened their line and no longer want to permit the Conga project under any circumstances.
With the restart of protests this week, Humala, who has defended the project, said that opponents are looking for a "political fight."
"In Cajamarca, the issue isn't water, because it is there," Huamala said, in comments reported by daily La Republica. "Behind these flags there are particular, political and electoral interests."
Santos, the regional governor, announced recently that he was creating a political group with a view to Peru's 2016 presidential election.