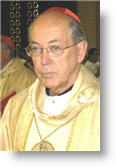 President Ollanta Humala is coming under pressure to decide whether or not to grant a humanitarian pardon for ex-leader Alberto Fujimori.
In recent days, a number of political opponents and even the Archbishop of Lima, Cardinal Cipriani, a long-time Fujimori supporter, have said that it is time to make a decision.
Fujimori, 74, is serving a 25-year prison sentence for human rights and corruption crimes. His family has requested a pardon from President Ollanta Humala, citing the former President's poor health. He has undergone surgery several times in recent years to treat a tumor growth in his mouth that his family and doctors have previously said was cancerous.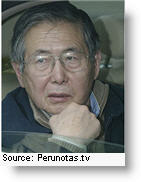 However, a medical report presented by a team of 12 specialists, who were commissioned by the pardons committee to evaluate Fujimori's overall medical conditon, found that the former lesion area should continue under observation but that it is not  cancerous and poses no threat to his life.  Fujimori was diagnosed to be suffering from depression, but the five psychiatrists on the team disagreed on the severity. The report was submitted to the pardons committee in February, but its details only became public last week when it was leaked to the media.
Several human rights lawyers, politicians from Humala's ruling Gana Peru party, and key jurists have said that Fujimori does not warrant a pardon because his health is not at risk and the conditions of his imprisonment pose no risk either (Fujimori is held in a suite of rooms separate from the main buildings at police barracks in north Lima, and he receives frequent visits from family members and friends).

But on Monday, former President Alan Garcia joined a growing number calling for Humala to announce his decision. "Let's leave the cloudy area of indecision," daily El Comercio reported Garcia saying. "Make a decision no or yes but don't leave the issue in doubt."
Garcia's Aprista party supports a pardon, according to party stalwart Javier Velasquez. "His health could deteriorate and we can't wait until he dies [in prison]. Our opinion is that he should be pardoned," Velasquez said.
Garcia's party helped elect President Fujimori, as his successor, in 1990 and has since worked closely with the Fujimori party at different times, including during Garcia's second term in office, 2006-2011. 
Cardinal Cipriani, Lima's controversial and ultra-conservative archbishop, has also called on Humala to announce his decision. "I think the pardon is sufficiently mature for a decision to be made," Cipriani said during his Easter Sunday sermon at the cathedral, advising the President not to "hide behind the medical report or the Minister of Justice, Eda Rivas."
Juan Luis Cipriani was auxiliary bishop and later archbishop of Ayacucho at the height of Peru's internal conflict 1988-1998, when Ayacucho was the center of the conflict between the violent, Maoist-inspired insurgency and the Peruvian military. The often poor, rural and indigenous population of Ayacucho and throughout the Andean highlands bore the brunt of the abuses committed byboth sides.
However, Cipriani, who held a close relationship with the military command in Ayacucho, was and continues to be consistently hostile towards human rights groups, and accused many activists who pointed to violations during the Fujimori administration of being traitors. He also  rejects the Truth and Reconciliation Report, CVR, which recognizes that Shining Path was responsible for more than half of the deaths but also places the blame squarely on the military forces for at least a third of the atrocities and includes specific crimes in the 1990s that were committed with the knowledge of President Fujimori, and for which Fujimori is serving his prison sentence.
Ronald Gamarra, a state prosecutor during Fujimori's landmark trials, said Cipriani "seems to be more Alberto Fujimori's attorney than the head of the Church in Peru." 
Justice Minister Eda Rivas said the pardon commission has almost completed its work. "The commission is working with a lot of care. We are in the final stretch, and I ask that you have patience," she said.