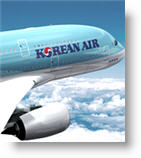 Foreign Trade and Tourism Minister Jose Luis Silva said Thursday that Korean Air will begin operations to Peru next week, state news agency Andina reported.
Speaking at the CADE 2011 business conference in Cuzco, Silva said the initial flights will be between Lima and Seoul on a weekly basis.
"There will be three flights this month, leaving Lima the 8th, 15th and 22nd of December," Silva said.
The route for those flights will be Lima – Miami – Los Angeles – Seoul, Silva said.
In October, Peru and South Korea said they were planning to sign an agreement to allow South Korean airlines to fly to Lima and provide services within Peru.
President Ollanta Humala's new government has been interested in attracting a new airline, particularly from Asia because of the Pacific Rim, in order to increase tourism and business. Peru aims to be the business and tourism hub in South America for Pacific Rim countries and to find a venture partner to develop more domestic flight services.
Currently, the major operator in domestic flights is Chilean-owned LAN. The second international airline is the Central American-based Taca. The domestic companies include Star Peru, LC Busre and Peruvian Airlines.