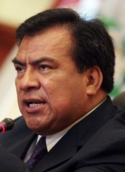 Opposition politicians are calling for authorities to investigate the reach of drug trafficking in Peru's Congress, after a former lawmaker was a arrested accused of being involved in the illicit activity.
Congressman Javier Velasquez, cabinet chief during the latter part of ex-President Alan Garcia's administration , said that "Thanks to President Ollanta Humala's party, drug trafficking has infiltrated parliament," according to daily Peru.21.
Two weeks ago, former Congresswoman Nancy Obregon was arrested in her home in Lima accused of leading a drug trafficking gang that operated out of the Upper Huallaga Valley, in San Martin region. Obregon represented San Martin in the 2006 – 2011 legislature and was a member of Humala's Nationalist party.
Garcia's administration, however, has its own serious allegations to face, regarding cabinet ministers and congressmen embroiled in Presidential pardons granted to over 5,500 inmates, an inordinate number of whom were drug traffickers, including major foreign operators and at least one entire gang from the cocaine production valleys in south central Peru.  A special congressional commission continues to uncover new details on the pardons.
Peru's Congress, elected in 2011 for the five-year presidential term, has several shady characters across the political spectrum. Several lawmakers from Puno and Madre de Dios are allegedly tied to illegal mining, while others are said to benefit from activities that would be a conflict of interest.
In addition to drug trafficking, Obregon has been accused of working with Shining Path rebels that provide security to drug traffickers. The Upper Huallaga Valley is one of the top producing regions of coca – the raw material used to make cocaine – in Peru.
Humala said on Wednesday that the government would not intervene on Obregon's behalf and wanted the issue cleared up. Other prominent politicians within Humala's administration have said they would feel thy had been "deceived" if Obregon is found guilty of the crimes.
Obregon's connections to and leadership among coca growers in the Upper Huallaga is well known, and her congressional campaign was based on helping and protecting the farmers, but she has always denied that she was involved in producing cocaine or trafficking it abroad.
Obregon is being held in the maximum security women's prison in Chorrillos.
Peru is one of the world's biggest producers of cocaine, along with Colombia.