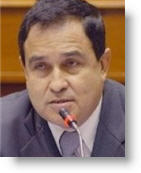 Peru's plans to increase tax collections will strengthen the government plans to improve social programs, according to Congressman Freddy Otarola.
On Thursday, Peru's parliament voted in favor of giving the Executive special powers to legislate on tax issues. Government officials say the measure is needed in order to increase the tax collections by targeting individuals and companies that evade payments.
The government has said it plans to increase tax collections from about 15 percent of gross domestic product last year, to 18 percent of GDP by 2016. Finance Minister Luis Miguel Castilla said recently that the increase in collections would give the government 12 billion soles ($4.4 billion) by 2016.
The government does not plan to raise any taxes or create new taxes, officials say.
Otarola, the spokesman for President Ollanta Humala's ruling Gana Peru party, said that tax evasion is as high as 30 percent for income tax and 55 percent for the general sales tax, or IGV. "This is completely incredible in a country that needs the resources. That's why, I insist, it was urgent to act," Otarola said.
Humala, who took office almost a year ago, has pledged to increase social inclusion in Peru, where about 27 percent of the population lives in poverty.