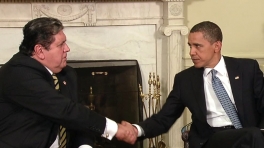 The United States will continue to work with Peru to promote democracy, human rights, press freedoms, economic development and poverty reduction, President Barack Obama told reporters following a meeting on Tuesday with the President of Peru, Alan García.
"These are all issues on which President García has some excellent track records of success in his own country," Obama said. "We want to continue to be an effective partner with Peru as they continue to grow and develop."
Obama applauded Peru's current political and economic situation, saying the Andean nation "has been an extraordinary success story over the last several years."
The U.S. and Peruvian presidents also discussed the importance of international cooperation on environmental issues like climate change, as well as nuclear non-proliferation.
"We recognize that it's important to leave to the next generation a country that has fewer nuclear threats rather than more nuclear threats," Obama said. "And so I very much appreciate Peru's strong stance on that issue."
President García, who is visiting the U.S. from May 31 to June 3, told reporters there is a need for global economic reforms, with the International Monetary Fund playing a central role.
"All countries need very deep economic reforms in order to avoid the stumbles and falls that have beset some regions of the world," he said.
García said he expects democracy in Latin America to continue to become stronger. "But this democracy needs to be modern, vibrant, a democracy that works with technology, with investment, one that does not fall into the trap of protectionism."
"And so I am very pleased that Peru chose correctly in the last few years, and this has been demonstrated in fact. We opened our economy. We opened the way to more investment. We were not beset by political complexes that made us close our doors. And so as a result, we've seen a growth in our economy."
Finally, García said he will continue to discuss issues such as Peru's support for immigration reform in the U.S. and the country's commitment to combating drug trafficking.