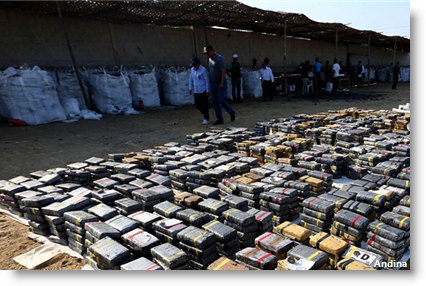 The biggest single cocaine seizure in Peru's history — 7.6 tons of cocaine in Trujillo on the weekend —is linked to a Mexican drug cartel, according to police officials.
The police operation that led to the find included the rest of six Peruvians and two Mexican citizens who had entered and left the country as tourists on several occasions in the past two years.
Interior Minister Daniel Urresti said the cocaine —to be shipped to Belgium and Spain — had a value of over $300 million on the streets of Europe, which is one of the top destinations for Peruvian drugs.
"This is Peru's biggest seizure of drugs," said Urresti. "It is historic."
This week, the impounded drugs were brought to the capital to be stored in the police warehouse at Barbadillo, in northeast Lima, where it will be burned. Urresti said the government took the necessary security precautions to avoid an "abnormal" incident during the transportation of the cocaine to Lima — the shipment was flown to Lima's airport and then taken to the police center in two trucks in a convoy of armored vehicles.
The chief of Peru's anti-drug police, Vicente Romero, said he believes the drugs were being trafficked with the help of Mexico's Gulf cartel, which operates in the state of Nuevo Leon. He said the packages of cocaine had the symbol of a lion on them.
"It is possible that they were from this Mexican cartel," Romero said, according to daily Peru.21.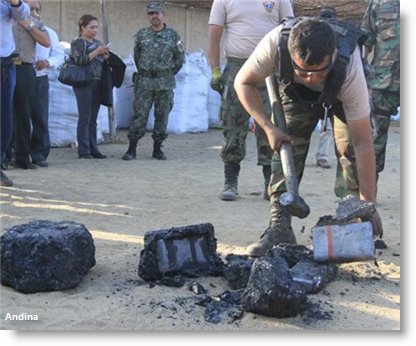 "In Peru we don't have drug cartels, we have collectors linked to a foreign cartel or organization. We assume, because it is still under investigation, that Mexican cartels have come to establish two legal export companies and once they are seen as serious companies in the market they are used to take the drugs out of the country," Urresti said.
The cocaine was found just outside the northern city of Trujillo, in the popular beach town of Huanchaco.  Investigations have shown that the organization had rented at least two large lots in Huanchaco, and several properties in residential areas of Trujillo to house the operators.
The drugs were camouflaged in blocks of coal, which were to be exported to Belgium and Spain, according to police.
Police originally thought that the cache was 3.5 tons, but later increased its estimate by almost double as they kept finding more and more packages of cocaine.
As the world's biggest cocaine producer, Peru has attracted international mafias and drug cartels from around the world. Officials say they have seen an increase in the presence of Mexican cartels, who help to organize the international logistics of the trade. Local gangs often control the production.