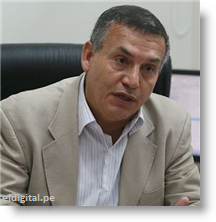 A state prosecutor has requested a 25-year prison sentence for Daniel Urresti, until recently Interior minister, for his alleged role in the murder of a journalist over 25 years ago in Ayacucho, local media reported.
Urresti, a former army general and highly popular as Interior minister, is accused of being on the scene and responsible for the killing of journalist Hugo Bustios in the Huanta area during the height of Peru's internal conflict against Maoist rebels in the late 1980s.
Urresti has denied any involvement in the 1988 murder of Bustios when he was an army intelligence officer in Peru's then-troubled Ayacucho region. However, former military officers convicted of the killing have alleged to investigators that Urresti was the leader of the military patrol that ambushed Bustios, who worked for Caretas magazine, and another journalist.
Bustios and colleague Eduardo Rojas, a correspondent with Revista Actualidad, were attacked by a group of soldiers dressed as civilians when they were investigating murders committed by Shining Path rebels in Quinrapa, a small town in the district of Huanta. Rojas survived the attack, while Bustios was shot and later killed with explosives.
In October 2007, a criminal court found two officers guilty of killing Bustios, possibly in retribution for a photo Bustios took of one of the officers. At the time, it was virtually impossible to take photos of the military in Ayacucho or to travel beyond authorized areas. Other reports have said that the military believed Bustios may have been collaborating with the Shining Path, although there is no evidence that he was.
State security forces committed abuses and carried out extrajudicial killings in Ayacucho and other parts of Peru during their battle against the Shining Path, suspected rebel-sympathizers.
After Urresti's appointment as Interior minister last year, journalist groups and human rights organizations called for his resignation in order to allow the Bustios investigation to continue without political meddling.
On Sunday, Urresti denied again that he had anything to do with the killing, saying that the accusations were politically motivated.  He said that at the time, his officer rank did not give him authority to command troops.
Despite his controversial style and questions over whether he achieved much during his short-lived tenure in Humala's cabinet, Urresti has high approval ratings and is seen as a potential presidential candidate in 2016, when opposition politicians Alan Garcia and Keiko Fujimori will be running for office. Urresti has publicly sparred against Garcia and Fujimori, most recently on social media.  And last week he signed up as a member of Humala's Nacionalista party, which triggered the rumors of the presidential candidacy.
"You don't need to be a genius to see whether this is political or not," Urresti said Sunday to RPP Noticias.
The head of the Public Ministry, Pablo Sanchez, denied political motivations behind the charges.
"The Public Ministry is not a political institution, it is a technical, legal institution," he said. "If the prosecutor has asked for a conviction [against Daniel Urresti] in the case of Hugo Bustios, it is because he has evidence."