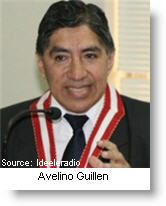 Avelino Guillen, one of the lead prosecutors in the human rights trials of jailed ex-President Alberto Fujimori, has announced that he will resign as state attorney due to personal reasons, daily La Republica reported.
"I thank everyone and each one of you, prosecutors of all levels and from different specialities and workers in general, for your effort and for your daily work to benefit our institution and our entire society," Guillen said in his resignation letter.
Guillén, a highly regarded and incisive state attorney in key cases, has worked for some 30 years as a public prosecutor. He has tried cases involving human rights abuses, corruption, and drug trafficking. In 2008 he made the list of "Personalities of the Year" compiled by Spanish daily El País for his work as prosecutor in Fujimori's trial for human rights violations. During that time he repeatedly received threatening phone calls and visits by suspicious individuals to his home.