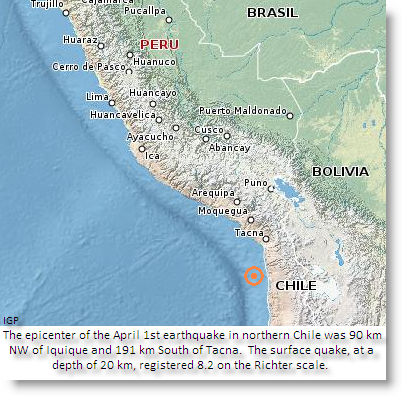 Schools remained closed today in Peru's southernmost region of Tacna, following a major earthquake off the coast of Chile yesterday that left some 20 people in Tacna with minor injuries.   In Lima, the Costa Verde road was reopened early today when a tsunami alert was dropped.
The earthquake struck off the coast of northern Chile on Tuesday evening (23:46:46 UTC, or 8:46 pm local time), leading to six deaths in Iquique and a tsunami warning up the entire Pacific coast of South America.
The epicenter of the magnitude 8.2 earthquake was about 90 kilometers offshore from the northern Chilean city of Iquique, according to Peru's Geophysical Institute, IGP, and the United States Geological Survey, USGS.
The powerful quake led to the evacuation of populations along the north Chilean coast and parts of Peru's south coast, over concerns of a tsunami. There was also a brief warning for Ecuador. The tsunami warning led authorities in Lima to close down the seaside Costa Verde freeway.
The warning was in place for about six hours, but it was lifted early Wednesday, following an announcement by Chilean Interior Minister Rodrigo Peñailillo.
"The tsunami warning has been canceled for the entire country. Everyone who was in the last six locations can start to return to their homes," Peñailillo said.
The quake caused panic in northern Chile, and brought back memories of a magnitude 8.8 earthquake in 2010 that resulted in some 500 deaths and widespread damage from an ensuing tsunami.
President Michele Bachelet, who only recently took office, declared a state of catastrophe for the northern regions of Arica and Tarapaca. Bachelet said she would travel to northern Chile to survey the damage. President Ollanta Humala of Peru offered to provide Chile with assistance.
The interior minister said that six people were killed related to the quake. Two of those deaths were due to heart attacks, while the others were a result of heart attacks. In Peru, local media reported minor damage near the border with Chile and initially about nine people injured.
There were also reports of damages to buildings and fishing ports. The electricity went out for several hours in the cities of Moquegua and Tacna in Peru, which Chilean media said their power was restored early Wednesday.
Also in Chile, in Iquique, 300 female inmates escaped from a prison during confusion from the quake. Authorities said they were sending the Armed Forces to the north in order to help recapture the inmates, maintain order and prevent looting.
The region where the quake occurred had been experiencing hundreds of smaller tremors prior to the larger earthquake on Tuesday. According to the USGS, there has been an increase of seismicity rates in the past month.