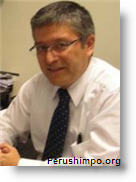 Close to 1.5 million Peruvians above the age of 65 do not have any form of pension, relying in part on state social programs to survive, according to the Finance Ministry. According to government figures, there are 2.5 million people who have reached retirement age.
The ministry's director of Financial and Labor markets, Oscar Graham, said that a reform of the pension system is necessary so that the government does not carry such a high social responsibility.
"There are close to one and a half million people older than 65 who don't have access to any form of pension. They live on state social services and the support of family members," he said.
He said that pension reform is necessary to avoid a future crisis, similar to the one that has been seen in European countries where the weight of social programs is high.
The government two years ago established a pension program, Pension 65, which provides retirees living in extreme poverty with 125 soles ($45) a month.
"Today there are close to 260,000 people receiving Pension 65, which has an annual cost of 400 million soles, but this is an amount that shouldn't increase," he said.
People who are on a payroll have a choice of paying into the state pension system, ONP, and the state health system, EsSalud, or opting for the private pension system, specifically through AFP Habitat, and private health insurance.  However, some 15 years ago, individuals —either unemployed or working independently— were also granted access to pay into the state pension and health systems.
In August this year, the government established that independent workers who invoice for goods or services would be required as of October to pay into the state or private pension systems.  However, following harsh criticism, this week Cabinet chief Juan Jimenez announced that the cabinet will temporarily suspend this requirement while it "perfects" the policy and seeks more effective ways to inform the public of its advantages.
Jaime Delgado, spokesman for the ruling Gana Peru party, has suggested that the rule be postponed for two years, saying that the issue had not been sufficiently understood nor promoted, while the Fujimori party of Fuerza Popular has suggested suspending the rule for a year.
The proposal is for all independent workers under the age of 40 to pay up to 13% into the ONP, and approximately 11.63% into the private system.  This would be added to the 10% tax for services invoiced, or 18% tax on sales invoiced.
Delgado said that the law did not consider situations of double contributions by payroll employees who may also do separate work on the side for which they invoice as independent workers.  Other critics mentioned that paying 23% in taxes and contributions may drive more independent workers to become informal and not register their independent income.