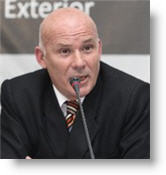 In the first year of Peru's free trade agreement with China, bilateral trade rose by 43.6%, with Peruvian exports worth $5.4 billion and a total of $5.1 billion in imports from China.
According to Eduardo Ferreyros, minister of Foreign Trade and Tourism, Peruvian exports to China increased by 33% in 2010 and are expected to grow by a further 30% this year.
"For the first year, I think the results since signing the FTA have been very interesting.  Although non-traditional exports were still small, there was important progress in shipping a diversity of products," Ferreyros said.
Traditional exports to China such as cotton, coffee, copper, iron ore, tin, gold, silver, and fish meal and oil increased by 32.7%, while non-traditional exports grew by 39.1% and included agricultural and fish products, handicrafts, wood and pulp, textiles and chemical products.
Agricultural products included strawberries, mangos, paprika and cochineal.  Ferreyros said there was also a positive increase in exports such as canned fish, giant squid, and grapes, and noted that the huge Chinese market of 1.3 billion people has already created thousands of jobs in Peru's fishing and farming industries.
 "Las year, in global terms, we exported more than $35 billion worth of Peruvian products to the world, and we believe we should double those exports every five years," Ferreyros said.