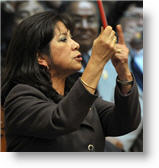 Peru's Congress suspended on Tuesday night opposition lawmaker Martha Chavez for 120 days, due to her vocal protests against President Ollanta Humala during his inauguration last Thursday, which was attended by most of the heads of state of South America and Prince Felipe of Spain.
Chavez interrupted most of Humala's inaugural speech with shouts following the President's statement as he took oath that he would be loyal to the principals and values of the Constitution of 1979, rather than the current Constitution that was enacted in 1993 during the administration of ex-President Alberto Fujimori.
The 1993 Constitution opened the door to major changes in private investment that have led to Peru's current economic boom, but it also restricts the role of government in areas that are not being filled or served by the private sector. During his presidential campaign, Humala proposed to amend the Constitution.
The decision to suspend Chavez, who has refused to apologize for the incident, was approved by 75 votes in favor, with 35 against and two absentees.
Chavez, a key member of Congress during the Fujimori administration, is a lawmaker for the opposition Fuerza 2011 party, which is the second largest block in Congress behind Humala's leftist Gana Peru party. No party has a majority in the 130-member Congress.
The traditional oath made by government officials is "Yes, I swear" but in recent years some have added their own invocations. Two days prior to this presidential inauguration, Chavez was sworn into the new Congress with her promise "To God, country, calling on the protection of my mother who is in heaven, and promising Alberto Fujimori that we will not surrender to the persecution."
Fuerza 2011 is led by the daughter of Alberto Fujimori and former presidential candidate Keiko Fujimori. She was defeated by Humala in the recent and contentious presidential campaign.
While much of the electorate was concerned that Humala would implement policies that could affect Peru's strong economic growth and that he could look to change the Constitution, many others were worried that Fujimori would pardon her father once elected.
Alberto Fujimori is currently serving a 25 year prison sentence for human rights violations and corruption charges stemming from his 1990 to 2000 administration. Since the election, Keiko Fujimori has said that her family is evaluating submitting a request for pardon based on her father's weakening health.