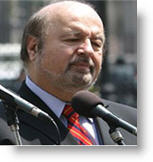 Peruvian economist Hernando de Soto has confirmed his support for presidential candidate Keiko Fujimori in the second round vote scheduled for June 5, daily La Republica reported.
De Soto said he would provide technical support to a potential Fujimori administration, although denied he would seek a cabinet post, including that of prime minister.
"I definitely don't have the slightest temptation [to be prime minister]," Radioprogramas reported De Soto as saying. "I don't believe in the role of the Peruvian prime minister which, unlike the French prime minister, doesn't have autonomy, serves the will of the president and is also busy with fulfilling protocols that take up most of the day. That is not what I want to do."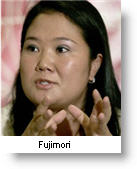 The founding president of the Lima-based think tank Institute for Liberty and Democracy said for the moment he is focusing on supporting Fujimori to win the election and if she is successful he will then evaluate exactly how to support her government.
"We will see at that moment how to do it… because there are various ways to collaborate," De Soto said.
Fujimori announced last week that she had sent out an invitation to De Soto to join her team. The economist cancelled a trip in Asia to return to Peru to meet with Fujimori following the announcement.
De Soto gained international recognition with his work on poverty and its relation to property rights. He worked as an economic advisor during the beginning of the administration of Fujimori's father, Alberto Fujimori, but resigned before the imprisoned ex-president dissolved congress in the 1992 "self-coup."
Fujimori is facing left-wing nationalist Ollanta Humala in the second round vote to be held June 5. Recent opinion polls report that Humala has a slight lead over Fujimori with just over a month before the vote.