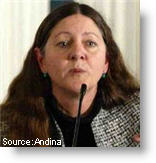 A leading expert on drug policy in Latin America said Friday that she supported the Peruvian government's decision in August to temporarily suspend coca eradication in order to reevaluate its counter-drugs policy.
Coletta Youngers of the Washington Office on Latin America said that Peru's drug policy over the last decade has shown few results.
"I think that it has been a very intelligent decision to reevaluate the policy of coca eradication because all of those policies haven't yielded much fruit," state news agency Andina reported Youngers as saying. "In the last decade, the amount of coca cultivated in Peru has almost doubled, despite the eradication policy."
Peru is the world's top producer of coca, that raw material used to make cocaine. The administration of President Ollanta Humala, which took office on July 28, temporarily halted the eradication of coca in the Upper Huallaga Valley in August.
The Upper Huallaga Valley is one of Peru's top coca growing regions, along with the Apurimac and Ene River Valley, or VRAE.
The decision to halt eradication was criticized by some analysts and local media and the government resumed eradication later.
Youngers said that forced eradication of coca does not resolve drug trafficking, which requires authorities to implement a more integrated strategy. She said that the strategy should involve providing substitutes for the coca leaf and taking apart organized crime.
"Until [the coca farmers] find other sources of income, other agricultural products or other employment, they are going to continue growing coca and this is what has happened until now: the coca is eradicated and they immediately plant it again because they need the income," Youngers said.
The second task to dismantle drug trafficking gangs involves cutting off the supply of chemicals used to make cocaine and tackling money laundering, Youngers said.
"There are a lot of other ways to hit drug trafficking where it hurts the most," she said. "Obviously, the dismantling of cocaine labs is going to have a much bigger impact than the eradication of some hectares of coca in a far off area. That is logical."