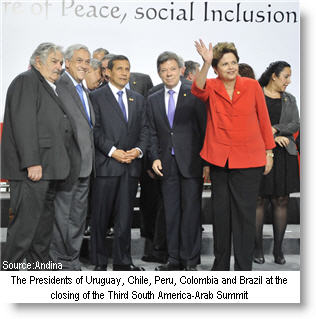 President Ollanta Humala on Tuesday wrapped up the third summit of South American and Arab countries with a 70-point declaration that called for peace and "condemns all forms of terrorism."
The two-day summit, focused on the theme of "peace, inclusion and development" and which included high-ranking delegations from 34 countries in South America and the Arab world, concluded with the signing of the Declaration of Lima.
The Declaration includes calls for the nonproliferation of nuclear weapons, respect for human rights and international law, and the need for joint scientific research and development to mitigate the effects of climate change and desertification.  It also recognizes Palestine as an independent and sovereign state,  Peru's state news agency Andina reported.
"Within these terms, we support the right of the Palestinian people to independence and sovereignty, and all nations in the region to live in peace and security within the recognized and respected borders," Humala said.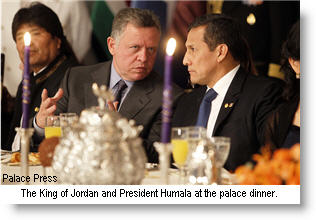 The summit included 11 of heads of state from both regions, and foreign relations ministers or other high-ranking officials from the 34 ASPA member countries, as well as private-sector executives who participated in a business forum aimed at increasing investments and exports. Talks at the business forum on Monday focused largely on the energy sector, improving infrastructure, ensuring food security, and boosting trade.   Monday evening, President Humala offered a state dinner at the government palace.
On Tuesday, business leaders listened to Peruvian cabinet members present investment opportunities in the energy projects, infrastructure works, as well as agricultural activities.
"This third summit has been characterized by the quantity of economic, social and cultural factors that unite us," Humala said.
The first summit was held in 2005 in Brasilia and the second meeting was in 2009 in Doha. Peru had planned to host the summit last year, but it was delayed due to the Arab Spring. The next summit is scheduled to be in Saudi Arabia in 2015.