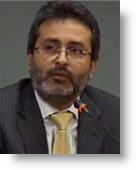 Peru's cabinet chief, Juan Jimenez, will make a presentation to Congress in the coming weeks to seek a vote of confidence for the government's new cabinet.
Jimenez is expected to address the legislators before August 23, Radioprogramas reported on Thursday, following a meeting between Jimenez and the president of Congress, Victor Isla Rojas.
Jimenez is expected to discuss the government's policy priorities, including plans to increase the salaries of police and military officers.
"The bill to increase salaries is an issue that no Peruvian can oppose because it has been delayed for a number of years," said Jimenez. "There is a very big gap in the wages of the Armed Forces and the National Police and we hope to have the support of Congress to close this problem."
Jimenez, a lawyer and the former Justice Minister, was appointed cabinet chief in late July, succeeding Oscar Valdes.
Valdes, a former military officer who moved from the Ministry of the Interior to Cabinet Chief last December, had taken a hard-line approach to dealing with protests against mining projects, with no success. A number of people were killed during the protests, which dragged Humala's approval rating down to about 40 percent.
Jimenez has promised more dialogue to resolve those disputes and has made a number of appointments and moves to strengthen the government's conflict resolution work.