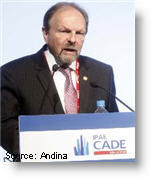 President Ollanta Humala's cabinet chief, Salomon Lerner Ghitis, called on organizers of anti-mining protests in northern Peru's Cajamarca region to participate in talks to resolve the dispute, state news agency Andina reported.
Speaking to the press at the business conference CADE 2011 in Cusco, Lerner said that the central government has been holding talks with protesters, which are being led by Cajamarca's regional president, Gregorio Santos, among others.
"This is the call that I want to make to the region of Cajamarca, its mayors, its regional government, its environmental organizations: that with dialogue we can reach a deal," Lerner said.
During his address to the CADE conference, Lerner Ghitis also mentioned the Conga project and said that the decision to suspend the project did not in any way imply a loss of authority.
Activity in Cajamarca has begun to return to normal after days of increasingly violent protests against gold producer Yanacocha's Minas Conga project, according to newspaper El Comercio.
Yanacocha is majority owned by US firm Newmont (51.35%), with local miner Buenaventura's Minera Condesa company (43.65%), and the International Finance Corporation, a unit of the World Bank, with the remaining 5%.
Conga was suspended earlier this week, but protesters have said they want the government to issue a decree to definitively cancel it. Protesters have said they are concerned about how the project will affect their water supply and quality.
Lerner called on Yanacocha to work towards improving its relations with communities. Analysts say that in addition to environmental concerns, the protests have gained support from local residents due to a deep distrust of Yanacocha, which has been operating South America's biggest gold mines since the early 1990s.
The conflict has posed a major challenge to Humala's government, which took office in late July and has led to one high-level official's resignation from the Environment Ministry.
Humala, a 49-year-old former army officer, cancelled a trip to Venezuela and Mexico where he was to participate in two regional summits. A statement from his office did not say why the trips were cancelled, but El Comercio reported that it was due to the Cajamarca conflicts and new conflicts on the south coast at Cañete.