By Rick Vecchio ✐
Peruvian Times Contributing Editor ☄
Nearly three years have passed since plans for an extreme makeover of Machu Picchu first came to light. Many travelers are wondering when this heralded "reconceptualization" of Peru's iconic Inca sanctuary will actually happen.
Dr. Elías Carreño Peralta, the Ministry of Culture's official in charge of implementing the 2015-2019 Machu Picchu Master Plan, says the transformation is well on its way.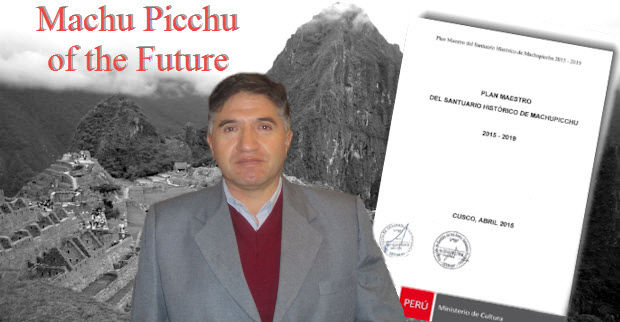 As visitors continue to flock to the enigmatic Inca Sanctuary in record numbers, Carreño says for the most part they are already following one of three prescribed routes through the citadel, with time limits enforced at specific points to keep the traffic flowing.
Other measures, like creating morning and afternoon shifts for entry, and requiring all visitors to be accompanied into Machu Picchu by a certified guide, will be implemented sooner than later, he says.
"This will contribute to Machu Picchu's existence for ever and ever," Carreño said during an interview in his Cusco office, overlooking the ruins of the Inca Palace of Kusikancha.
"Unlike petroleum and gold, which can be depleted, Machu Picchu should remain forever," he said, "But all of us have to do our part and respect the regulations."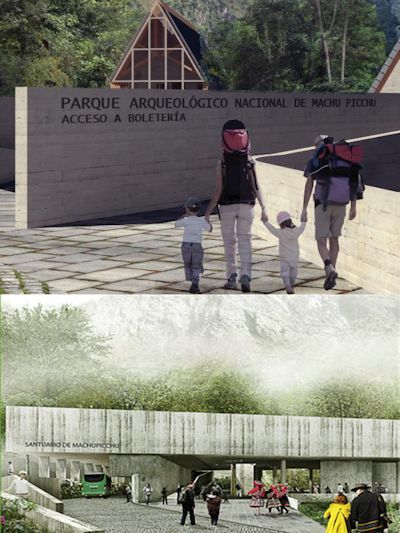 Construction of a new Visitor and Orientation Center in the jungle gorge below is still about five years off, he says. That complex will serve as the new entry point into Machu Picchu, instead of the current entrance just outside the ruins.
Far from a "Disneyfication" of the Word Heritage Site, Carreño says the UNESCO-endorsed Master Plan is designed to restore and integrate long-overlooked Inca trails, terraces and ceremonial ruins to provide visitors a more authentic experience than ever.
"We will have a much more fluid flow of visitors," Carreño added. "And that is what the Inca had, these diverse routes in and out of the sanctuary, not a single entrance that caused a huge congestion of tourists."
The Master Plan addresses problems that UNESCO had for years insisted be fixed for Peru to avoid Machu Picchu being added to UNESCO's list of endangered cultural heritage sites.
Nearly 1.3 million visitors toured Machu Picchu in 2015, according to official figures provided by Peru's Ministry of Foreign Trade and Tourism. Complete figures for 2016 are not yet available, but by mid-year, visitor totals were on pace to break that prior-year record.
The Ministry of Culture in 2015 hired a U.S.-based firm, Cultural Site and Research Management of Baltimore, Maryland, to determine how many visitors could safely visit Machu Picchu.
The firm, led by Dr. Douglas Comer, has a well-established track record in cultural resource and environmental planning, including the sustainable visitor services plan for another UNESCO World Heritage Site, the Petra Archaeological Park in Jordan.
The study identified a ceiling of 5,400 visitors per day, taking into account threats to the conservation of Machu Picchu's cultural and natural resources, as well as diminished enjoyment because of overcrowding.
More than a static number, the report offered 320-plus pages of in-depth analysis and recommendations for infrastructure improvements, identifying and restoring previously unused — or unknown — Inca ruins, and spreading out the flow of tourists.
The study also offered a plan for permanent geospacial monitoring of the site to track how visitors move through the citadel to prevent congestion.
"So we would be talking about more or less a fluctuation of 3,000 or 3,500 to 5,000 visitors" per day, Carreño said.
One big cause of overcrowding at Machu Picchu was addressed last year with the completion of an exit ramp out of the citadel, he added. Ninety-eight percent of all visitors are now using it, instead of leaving the same way they came in.
"Right there, we've made phenomenal progress," Carreño said. "We have seen a major reduction in congestion in the Inca citadel, and as a result, an improvement for its conservation."
But that separate exit has not addressed the biggest challenge, he says: the morning rush.
In recent years, "pressure on the site in the morning hours has gotten completely out of hand, with as many as 4,000 or 5,000 visitors crowding the site between and 9 a.m. and 1 p.m.," he said, "and in the afternoons, the site is left all but empty."
Also, under the current regulation, visitors can choose to stay all day. "They can enter at six in the morning and if they want they can stay until five in the evening," Carreño said. "That is not sustainable."
So the Master Plan calls for two distinct visitor shifts, one in the morning until noon and the other from the afternoon until 5:30. Currently, visitors can leave and re-enter up to three times. Under the two-shift policy, Carreño said, visitors will be allowed to leave and re-enter only once.
"We are talking about almost six hours for each shift, which we consider more than enough time for a visit and quiet contemplation with the guide," he said. "That is to say, that the guide can do a three hour tour and then the visitors have two or three hours free, which is more than enough to tackle the circuit again."
To critics who lament these changes are spoiling the special and unique nature of Machu Picchu, Carreño said: "We have examined the cases of other World Heritage sites where the time allotted for the visit is two or three hours, which is normal."
He points to the UNESCO World Heritage Site of the Alhambra in Spain.
"It is highly regulated, very strict. I think that it is just two hours or three maximum with tickets, with GPS bracelets. After two hours you receive an alert that it is time to leave the monument," he said. "In Petra, as well, we have information that there is a time limit. And so that is how it works at the main World Heritage Monuments designated by UNESCO. There are regulations."
The Ministry of Culture started diversifying routes, with different ticket prices, several years ago. Visitors have had a choice between scaling the vertical stone steps to the top of Huayna Picchu, hiking to the peak of Machu Picchu Mountain, and backtracking around to the Inti Punku Sun Gate or to the Inca Bridge.
There is, of course, also the classic four-day Inca Trail from Km. 82, and the more leisurely one day Inca Trail trek from Chachabamba at Km. 104.
NEW INCA TRAILS INTO MACHU PICCHU
Plans are underway to open two more alternative access routes into Machu Picchu within the next two years.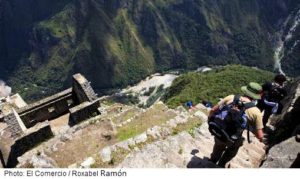 The first would offer an extremely challenging adventure trek through the Inca temple ruins of Inkaraqay, on the nearly vertical far slope of Huayna Picchu. Cleared in 2010, the site encompasses a temple platform and five agricultural terraces with fine Inca stonework. A restored Inca trail would wend round the iconic peak to the Temple of the Moon.
The trek would begin by crossing the Vilcanota River at Km. 117 over a new bridge that has yet to be built. The arduous journey would take approximately five to six hours, not including time spent exploring the ruins atop Huayna Picchu. The journey would culminate at Machu Picchu, entering the citadel at the Sacred Rock.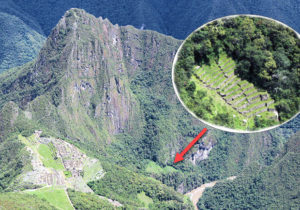 The other new option is a gentler trail. It will start several hundred meters from Puente Ruinas, near the Mandor Gardens, before a short, but steep, ascent up to and through the Andenes Orientales (Eastern Terraces).
Similar to the stairs that bisect the switchback Hiram Bingham road to the current main entrance, this alternative route would take between 90 minutes and two hours to reach the citadel but it leads into Machu Picchu at the Temple of the Condor.
Part of the logic behind these new and diverse routes into Machu Picchu is that they will appeal to varied categories of visitors — adrenaline adventurers, spiritual seekers, and travelers interested in traditional cultural tourism. The peak hours for when these different groups reach the citadel, from different entry points, will also be spread out over the course of the day.
The Master Plan addresses many other problems identified by UNESCO, from fixing the inadequate solid waste management to creating alternatives to Aguas Calientes as the sole bottleneck gateway to reach the ruins. Tourists will be able to arrive via newly developed routes from Santa Teresa, which for years had functioned as an unregulated back door to Machu Picchu.
MACHU PICCHU FUNICULAR (cliff railway) vs CABLE CAR
Carreño also says the days of Consettur buses shuttling visitors up and down the switchback Hiram Bingham "highway" are numbered.
After a series of landslides, studies commissioned by Peru's National Service of Protected Natural Areas (Sernanp) and the concessionaire Consettur, itself, concluded the road, built in 1948, is near the point of permanent collapse.
Carreño says the Ministry of Culture in the next month or two is planning to open international bidding for feasibility studies to determine alternative forms of transport from the valley floor up to Machu Picchu.
In 1999, construction of a cable car was approved and set to begin, but was cancelled after UNESCO nixed the project, objecting to the disturbing visual impact an aerial tramway would create.
While Carreño said the final determination must be left up to the feasibility studies, "a cable car would always entail this problem of disturbing the visual landscape and the eternal harmony."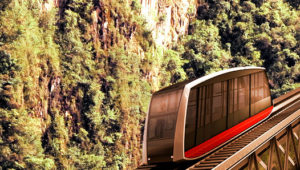 In comparison, a funicular is a steep inclined rail car system that could possibly be built near the Mandor Waterfall, he said.
That would put it at a point further along the horseshoe bend of the Vilcanota River, out of sight from the citadel above. The rail system would track up the mountainside, camouflaged by the dense vegetation.
"We think that a funicular or an elevator, or a combination of these two, would not alter the landscape," he said. "But in any case, it will be a question of the team of consultants giving us the green light in accordance with all of the variables of the geography, geology, the archaeological patrimony, and of course the visual aspect so that the alternative transportation project creates the least impact possible."
Once a technical study is completed, construction could start as early as 2018, he added.
_______________________________
✐  Rick Vecchio is also director of marketing and development for Fertur Peru Travel, which is owned by his wife, Siduith Ferrer, and is a commercial sponsor of Andean Air Mail & PERUVIAN TIMES. You can read more of his articles on the Peruvian Travel Trends blog.