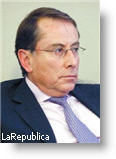 Peru's government has called its ambassador to Ecuador to Lima for consultation, following an incident in Lima involving Ecuador's Ambassador to Peru, daily El Comercio reported.
Last week, Ecuador's Ambassador to Peru, Rodrigo Riofrio, got into a fight with two women at a supermarket in Lima's Magdalena district. The women, a daughter and mother, went to the local press accusing the ambassador of hitting and kicking them after he allegedly insulted them for cutting in line.
A video of the incident shows Riofrio and the women talking when one of the women hits the ambassador in the face. He responds by hitting the women, apparently with a magazine that he was carrying.
On Thursday, Ecuador said that after reviewing security cameras that caught the incident on tape and talking with a police officer, it decided to not remove Riofrio from his post as he was acting in self-defense. "Ecuador's Foreign Affairs Ministry has reached the conclusion that the head of Ecuador's mission in Peru was a victim of aggression that forced him to react in legitimate defense," Ecuador's government said, according to daily La Republica.
Peru's Foreign Affairs Ministry responded shortly afterwards saying that it would call its Ambassador to Ecuador, Javier Leon, back to Lima for consultation.
Ecuador also decided to call Riofrio to Ecuador for consultation, saying that it doesn't want the incident to affect the relations between the two countries.  The press has speculated that Riofrio will most probably not return to Lima.