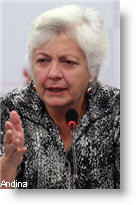 The head of Peru's anti-drug agency, Carmen Masias, said she is confident that Peru will eradicate 22,000 hectares of coca bushes this year in a bid to curb cocaine production.
Peru has been expanding eradication efforts as part of a broader strategy to halt the growth of cocaine production in the Andean nation. Last year, Peru eradicated about 14,000 hectares of coca, the leaf that is used to make cocaine. Anti-drug agency Devida has set the goal of eradicating 22,000 hectares this year.
"We're optimistic that if we do a serious job we will reach our goal of 22,000 hectares. I hope it is more than that at the year-end" news agency Inforegion reported Masias as saying.
Masias said that so far this year, officials have eradicated more than 6,000 hectares of coca leaves in the Monzon valley, in the Huanuco region. This is the first time that manual eradication of the bushes has taken place in this area, where previous efforts have been with aerial patrols and interdiction.
The eradication this year will also include for the first time ever the physical removal of coca bushes from the Apurimac, Ene and Mantaro Valleys. The VRAEM, as the long mountainous, jungle area is known for strategic purposes, is Peru's top coca producing region and a stronghold of remnants of Shining Path rebels.
The rebels are heavily involved in the drug trade.