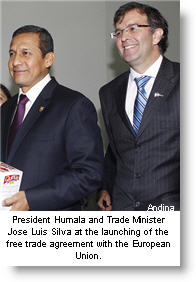 The free trade agreement between Peru and the European Union came into force Friday and was announced by President Ollanta Humala, according to newspaper La Republica.
Humala said the trade deal will be an important tool to promote his goal of more social inclusion, which aims to lower poverty, and not benefit the private sector.
"This is the start, not the end, of a path that we should all take," Humala said.
Humala said that Peru's economy has been one of the most dynamic in the world, but that he'd like to see non-traditional exports increase. Most of Peru's exports are minerals and other raw materials, labeled as "traditional" exports.
The trade pact between Peru and the European Union was approved by lawmakers last year. Negotiations for the deal started in 2010 and ended in June 2012.
About 18 percent of Peru's exports go to Europe, making it the Andean country's biggest trading partner ahead of China and the United States. The private sector has said that it will benefit Peru's manufacturing, agricultural and non-traditional fishing exports.
Peru also has free trade agreements with the United States, China, and Canada, as well as Mexico, Japan, Korea, Singapore and Thailand. It is also a member of the multilateral trade deal known as the Trans Pacific Partnership, which also includes countries in North America and Asia.