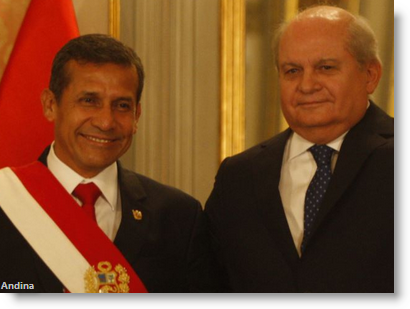 Former Defense minister Pedro Cateriano was sworn in on Thursday as President Humala's new premier, in the seventh cabinet shuffle in this administration.
Together with Cateriano, three new ministers were sworn in to head the portfolios of Defense, Foreign Relations, and Justice and Human Rights.
The change follows the majority vote in Congress to censure Premier Ana Jara for the government's perceived lack of action when proof was shown that the National Intelligence Directorate, DINI, has been investigating the backgrounds of politicians, activists and journalists.  Although Jara ordered heads to roll and the office to be reorganized, Congress gave a vote of no confidence, 72 to 42.
This is the first time a government has been censured since 1963, during Fernando Belaunde's first presidency.
Cateriano, 56, faces a difficult task in this last 16-month stretch of the Humala administration when the economy has slowed down, an El Niño weather phenomenon is looming and flood emergencies are already high, and dialogue with the opposition is difficult as they elbow each other for position for the presidential elections a year from now.
But Cateriano is tough, politically savvy, honest, and has weathered opposition well in the past. He has been minister of Defense for the past three years, working with the government prior to that as representative in the Chavin de Huantar case before the Inter-American Court of Human Rights, and also to the Inter-American Commission against Corruption.
Cateriano's appointment as premier has initially been seen by Apristas and Fujimoristas —who led the campaign to censure the government— as a provocation, since Cateriano has frequently shown on Twitter that he is bemused or has little patience with their comments. In 1991, as a member of congress he was in the commission that investigated and accused Alan Garcia of illicit enrichment, and in 2001-2002 he served as vice-minister of Justice in the Toledo administration.
However, during a press conference at the state-owned Canal 7TV, Cateriano said he would have an "open door policy."
"In a position such as this, I am obliged to engage in dialogue, but unanimity does not exist in democracy. This is a government in which the majority decides what is to be done," he said.
The new minister of Foreign Relations is Ana Sanchez Vargas, who was cabinet chief to her three predecessors in this administration — Rafael Roncagliolo, Eda Rivas and Gonzalo Gutierrez.  Sanchez has had to make a sudden change in plans, since at the beginning of the week she had been appointed ambassador to France.
The new minister of Justice and Human Rights is Gustavo Adrianzen, who has been vice-minister of Justice, and earlier was a prosecutor for the Ministry of Defense in the Chavin de Huantar case.
And Jakke Valakivi, an economist, is the new minister of Defense.  Valakivi has been vice-minister of Defense Resources, and in March had been appointed by Ana Jara to head the Reorgnization Commission of the Intelligence office.  Prior to joining the government, he was on the board of directors of Banco de Comercio and a key advisor to the Banking Superintendency, SBS.
The new cabinet now needs to go to Congress for approval.