Former Peruvian soccer star Teofilo Cubillas says the country had the talent to make the 2010 World Cup in South Africa, but "does not want to," RPP radio station reported.
"I'm saddened that our country won't be present at the [World Cup]. But what hurts the most is that we have the ability, but we don't want it," said Cubillas, who is arguably Peru's all time best soccer player and who in 1972 was awarded South America's Footballer of the Year, a year before Brazil's Pele received the award.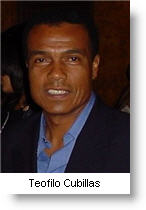 "In this case, Peru isn't going because it doesn't want to. With the players that we have, we could not only qualify, but we could have a presence in a tournament of this magnitude."
Cubillas criticized the Peruvian Soccer Federation for delaying to name a new coach for the national team, which is preventing the country from playing in international matches.
"It's worrying that we don't have a coach because we are giving an advantage to all the teams that are playing exhibition games," said Cubillas. He added that the coach should be someone who is well-known and with experience.
Peru finished last in the South American zone during qualifications for the 2010 World Cup.  Brazil finished first in the qualifications, with Chile, Paraguay, Argentina and Uruguay also qualifying for South Africa.
Peru's last appearance at the World Cup was in Spain in 1982.