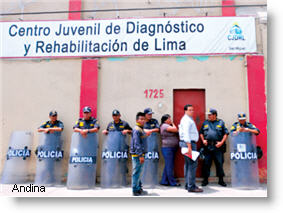 Police have captured nine young convicts of a total of 27 who escaped in a 24-hour period over New Year's Eve from the reformatory known as 'Maranguita' in the Lima district of San Miguel.
According to police reports, the director of the youth diagnostic and rehabilitation center, located in the Maranga neighborhood, had been warned several months ago that some of the prisoners were planning to escape, instigated by a 17-year-old known by the alias of Gringasho, a ringleader who had committed several crimes in Trujillo, including murder, and who had already managed to escape nine months earlier.
The reformatory is infamous for its poor infrastructure and rehabilitation standards, as well as frequent prisoner escapes, leading the Public Ombudsman six months ago to warn that the center was a virtual time bomb if immediate steps were not taken to improve the facilities.
An inspection in July 2012 by two of its officers led the Ombudsman's office to issue a report to the center and to all police and judicial sections involved, indicating that few improvements had been made since its previous report six months earlier —the infrastructure had improved but nothing else: there were still too few specialized rehabilitation staff, poor security, and serious overcrowding —740 young prisoners in facilities built for 340.
It also called for immediate increased police security, and called on the government to urgently establish new policies for youth rehabilitation.
Psychoanalyst Jorge Bruce commented to Diario 16 that "under the current rehabilitation system" it is "highly improbable" that the young prisoners could be reinserted into society, and that more than a rehabilitation center, Maranguita appeared to be "a storage for people who have committed different types of crime."
"What is most probable is that they leave that place much better schooled for delinquency than for anything else," he said.
The mayor of San Miguel, Moises Heresi, is determined to close the center, on the grounds that it poses serious security risks and should not be in the middle of what has now built up as a residential area. The decision, however, lies within the jurisdiction of the Judiciary.
Cabinet chief Juan Jimenez said Wednesday that the Inter-American Development Bank, IDB, had a proposal to build new youth rehabilitation centers and that the cabinet would be looking at the project.