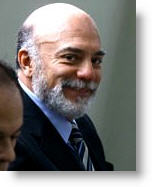 Romulo Leon, a prominent member of ex-President Alan Garcia's Aprista party, was released Friday from prison, where he has been held for the past eight months in relation to an oil concession kickback scheme revealed in 2008.
Newspaper El Comercio reported that Leon was taken to his house in Lima's upper-middle-class Miraflores district, where he will be under house arrest. The house arrest status was granted on the grounds that he is not a flight risk. 
Leon served as Fisheries minister in Garcia's first government (1985 to 1990) and has always been a prominent leader within the Apra party. He was arrested after a television program broadcast a conversation he held, which was illegally recorded, with ex-Perupetro vice-president Alberto Quimper.
In the recordings —which became known as the petroaudios— the men allegedly discussed under-the-table payments conditioned on Norwegian Discover Petroleum company's obtaining oil exploration concessions.
A week after the first tapes were released to the press, new tapes surfaced in which Leon allegedly told a Discover representative that Garcia's cabinet chief at the time, Jorge Del Castillo, could be counted on to provide influence to help clinch a winning bid in the oil block auction.
The scandal forced a major cabinet shuffle and led to investigations of Del Castillo and several high-ranking government officials in Garcia's most recent 2006-2011 term.
The scandal was the most prominent of several corruption cases that surfaced during Garcia's administration.
Leon is involved in several investigations and court cases that include his own trial on corruption and influence peddling; the Business Track, BTR, trial which began in August this year on illegal phone tapping; and investigations into at least six Garcia cabinet ministers that has evolved from documents and e-mails found on Leon's computer.