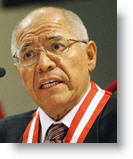 The president of Peru's Judiciary, Cesar San Martin, has proposed creating an agreement with Mexico's Judicial Branch in order to cooperate on legal matters, state news agency Andina reported.
San Martin made the proposal during a meeting with Mexican President Felipe Calderon, who was in Lima last week as part of a state visit that included the signing of an accord aimed at deepening economic integration with Peru, Chile and Colombia.
San Martin said stronger ties with the judiciary in Mexico would be beneficial to Peru because Mexico "has an interesting judicial experience in the fight against money laundering, drug trafficking and organized crime."
The agreement would facilitate exchanging judicial experiences and the coordination of training activities, among others.
San Martin called Calderon's attempts to gain a grip on Mexico's violently bloody drug trade "an example for democracy."
During Calderon's administration, Mexico has been mired in violence as competing drug gangs fight for territory and lucrative transportation routes into the United States. As the world's top producer of the coca leaf, Peru plays a major role in supplying the cocaine that is smuggled north to Mexico and then moved into the U.S. and other countries.
President Calderon said he would be open to sharing experiences with Peru. "We are open to sharing our experiences on judicial matters, but above all to learn from you and what has happened in other countries," Calderon said.  "There is a lot we have to learn from each other," he added.