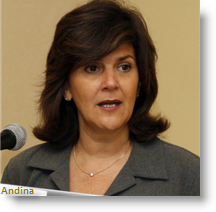 The Andean Development Corporation, CAF,  Latin America's development bank, said it expects Peru to lead economic growth this year, driven by infrastructure projects and increased mining production, state news agency Andina reported.
"This will be a year with interesting economic growth," the bank's director in Peru, Eleonora Silva, said. "Within Latin America, Peru will continue to be one of the countries that will lead the region's growth."
Peru's economy slowed sharply last year, after a decade of robust growth driven by a global commodities boom and domestic demand. In the first 11 months of last year, the economy expanded about 2.5%, down from 5.8% in all of 2013.
This year, the Central Reserve Bank of Peru said last month that the economy will likely expand 4.5%. It had previously forecast growth of about 5%.
Growth is expected to recover thanks to new copper projects, which will double copper production in the next few years. Peru is the world's third biggest copper producer.
The economy is expected also to be supported by large infrastructure projects, including a southern gas pipeline and the underground metro in Lima.
But some analysts are cautious that Peru will see much of an improvement. Instead, they point to the sharp decrease in copper prices, and sluggish outlook for other metals, which will hurt Peru's investments.  Over the past two weeks, Peruvian Times has published two articles by Nicholas Asheshov on a much slower economy, in Sol Must Be Lower to Face World Financial Whirwind (Jan. 22, 2015) and Fall in the Sol Coming Sooner Than Later (Jan.29).