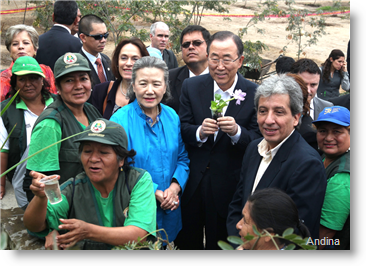 The Secretary General of the United Nations was in Peru this week, and on Tuesday visited a tree-planting project in Lima's working class district of El Agustino.
Ban Ki-moon participated in the opening on Monday of the 15th General Conference of UNIDO, the United Nations Industrial Development Organization. During the conference, attended by Peruvian President Ollanta Humala and UNIDO chief Li Yong, Ban Ki-moon called on the mineral-rich Andean country to give priority to sustainable industrialization as the path to inclusion and development.
On Tuesday, he headed to the district of El Agustino, a long-established,  lower-class neighborhood in east-central Lima.
Ban Ki-moon visited a U.N. project that aims to plant trees on almost 18,000 square meters of area that has been environmentally damaged, according to state news agency Andina.  The Secretary General and his wife planted one of the trees — the trees being planted in the area are the tara species (Caesalpinia spinosa), a hardy plant native to Peru. The tara has several medicinal and industrial uses, both from its leaves as well as its fruit, a dry reddish pod, and ranks high on the country's list of recommended sources for eco-businesses.
"I truly appreciate your ingenuity and strong commitment to turn your barren land into very valuable land, in combating climate change," the head of the UN said after visiting the project.
"By planting the [species] tara along the banks of this river, you can really help fight the impact of climate change," he added.