Peru has signed an agreement with Ecuador to delimit its northern maritime border, an accord that could provide the Andean country a boost in its case over its southern border dispute with Chile currently at the International Court of Justice (ICJ) in The Hague.
The decision to sign an accord was proposed by President Rafael Correa of Ecuador during a visit to Peru last year, daily La Republica reported.
"On that occasion, the Ecuadorian head told President Garcia that Ecuador wanted a guarantee with the Peruvian state that there were no pending border issues," Peru's Foreign Affairs minister Jose Antonio Garcia Belaunde said.
After the request, Garcia gave Correa confirmation that there was no outstanding dispute. "From that moment, they began to discuss an accord with all of the formalities, which was signed [yesterday]," Garcia Belaunde said.
The agreement will need to be ratified by Congress in both countries. The accord confirms the maritime border as parallel to the equator cutting west across the Pacific. It also establishes that two agreements – signed in 1952 and 1954 – were fishing treaties and not related to the maritime border.
It is fishing agreements, which Peru also has with Chile, that are at the center of the maritime dispute between Peru and its southern neighbor.
In January 2007, Peru began proceedings against Chile at the ICJ. The dispute dates back to the 1879 – 1883 War of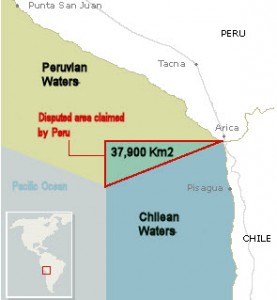 the Pacific, in which Peru and Bolivia lost substantial territory to Chile. Central to the row is 38,000 square kilometers, or about 14,500 square miles, of fishing-rich sea which Chile currently controls.
Chile says the current border, which also runs parallel to the equator, was established under the two agreements from the 1950s. However, Peru claims those agreements were fishing treaties and the maritime zone has never been settled.
Peru's proposed border follows the countries south-western sloping border into the ocean.
As a result, the signing of the agreement with Ecuador "is important because it ratifies the premise that Peru has always held up that the agreements of 1954 and 1952 are fishing [accords], and that will strengthen our position at The Hague," Garcia Belaunde said.