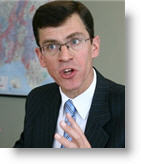 Great Britain's ambassador to Peru, James Dauris, said Wednesday that approximately half of all the cocaine consumed in Europe comes from the Andean nation.
In an interview with Ideeleradio, Dauris said that unofficial figures place the cocaine trade in Europe at about $21 billion.
"We are talking about an enormous business," Dauris said. He added: "There aren't precise figures, but we estimate that more than half of the total cocaine consumed in Europe today comes from Peru. It is an important problem for us in terms of health, crime, and education."
Dauris said that Great Britain sees the fight against drugs as a "shared fight."
"We can share our experiences, that is what we want to do with the agencies and authorities responsible here in Peru," the ambassador said.
Dauris said he is encouraged by comments from President Ollanta Humala, who has promised to tackle the country's cocaine trade.
Over the past decade, Peru has been the world's second biggest cocaine producer behind Colombia. However, in October, the U.S. Drug Enforcement Administration said that it now estimates that Peru is the largest.