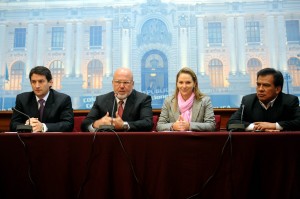 Legislator Carlos Bruce announced Wednesday an alliance with lawmakers from ex-President Alan Garcia's Aprista party, just a few days after being suspended from the Peru Posible party.
The alliance, known as Concertacion Parlamentaria or Parliamentary Agreement, also includes Congressman Renzo Reggiardo, who was elected on Luis Castañeda's Solidaridad Nacional party ticket.   
APRA's number of seats in Congress was reduced dramatically in the recent election from its 36 seats in the 2006-2011 term to only four. The legislators for the party are Luciana Leon, Mauricio Mulder, Elias Rodriguez and Javier Velasquez, a cabinet chief during Garcia's administration.
Bruce made the announcement following a decision by the leader of Peru Posible, ex-President Alejandro Toledo, to cancel his party membership. Toledo's decision came after infighting between Bruce and other members of Peru Posible.
Bruce was highly critical of Toledo and the party's decision to support President Ollanta Humala in the run-off vote against ex-Congresswoman Keiko Fujimori.
"We are a group of legislators that have something in common," said Bruce. "We are re-elected and, as a result, we have the experience to do a good job."
The largest block in Peru's Congress is Humala's Gana Peru party, but it does not have a majority. The next largest group is Fujimori's Fuerza 2011 party, followed by Peru Posible.