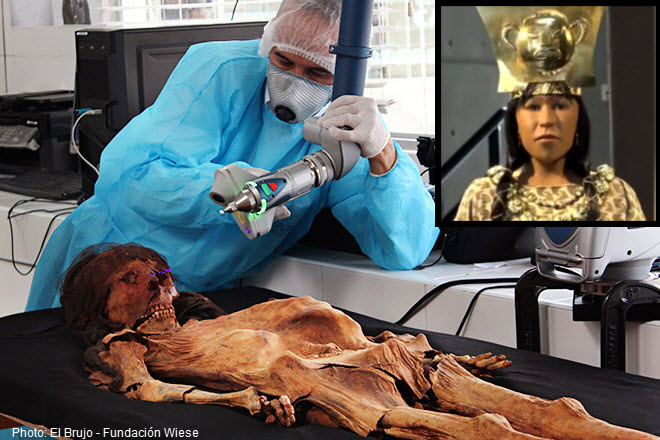 More than 1,700 years after her lavishly garbed, mummified body was ceremonially buried by the Moche in a royal tomb on Peru's northern coast,  officials on Tuesday revealed to the world a forensic recreation of the High Priestess of the Huaca Cao.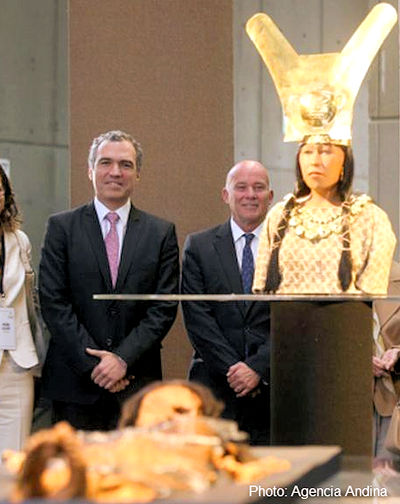 "It is an exact replica of the body and an unveiling of the face of the Lady Cao," Minister of Culture Salvador del Solar told reporters Tuesday. "Technology allows us to see the face of a political, religious and cultural leader of the past."
Discovered in 2005 in an intact tomb, the Lady Cao was a young woman adorned with the regalia of the high Moche religious hierarchy — making her the first known female ruler of pre-Columbian Peru.
Her arms were decorated with tattoos of snakes and spiders, and she is believed to have been imbued by her people with mystical powers. Scientists say she died around 300 C.E., likely soon after giving birth.
The forensic digital reconstruction was commissioned by the Wiese Foundation, which funds the sprawling El Brujo archaeological complex where the Lady Cao was discovered and is kept on display at the site's ultra-modern museum.
For 10 months, resident archaeologists worked with specialists from Faro Technologies, 3D Systems, Abstract Group and ARQ 3D. They used laser technology developed by National Geographic to create a complete digital scan of the mummy from head to toe, the Ministry of Culture said.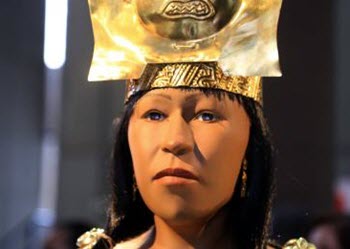 The unveiling of Lady Cao's likeness comes 10 months after a team of computer graphics and forensic scientists produced a digital facial reconstruction of the Lord of Sipán. He is believed to have been a supreme Moche leader. His gold-relic laden tomb was discovered in 1988 at Huaca Rajada, 106 miles north of El Brujo.
"To see this woman tattooed, golden, 4-feet-11-inches tall, but of an immensity comparable to that of the Lord of Sipán is not only a matter of pride but an extraordinary development," del Solar said.
For nearly 500 years, the Moche culture dominated more than 300 miles of Peru's northern coast, extending inland from the Pacific Ocean to the high western slopes of the Andes. Their civilization went into decline and collapsed after a repeated string of catastrophic El Niño-driven floods and gigantic mudslides followed by intense droughts over the course of nearly two centuries. By 850 C.E. they were gone, replaced by a new civilization, the Chimu.
The Lady of Cao will be exhibited for free until July 16 at the Ministry of Culture's headquarters in Lima's San Borja District.