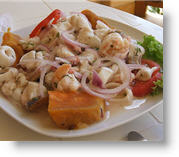 Peruvian food is increasingly becoming a draw for tourists to the Andean nation, which is most famous for Machu Picchu, a growing number of other archaeological sites, and ecotourism in the Amazon rainforest.
The National Tourism Chamber, Canatur, forecasts that 70,000 to 80,000 foreign tourists come to Peru exclusively for the food.
Canatur president Carlos Canales says the visitors spend about $1,000 to $1,500 on food during an average four day trip, daily El Comercio reported.
Visitors from Latin American countries, especially Chile, Colombia and Brazil, are the top source of food tourists to Peru, Canales said.
The main dishes that draw foreigners to the country are of seafood, particularly ceviche and spicy variations with shellfish, including squid and scallops.
"Peru could become the gastronomy capital of the Americas, we are very close to taking over from Sao Paulo in this recognition," Canales said.
One of the goals of the annual Mistura food fair , founded by chef Gaston Acurio and held in Lima in September, is to attain  that ranking by 2021.  
Two of the many positive results brought about by the fair, which attracts chefs such as Ferran Adriá and René Redzepi, are the recognition of the key role played by small farmers and suppliers nationwide in the cooking traditions of Peruvians, and the importance of natural, organic farming methods to preserve flavor and quality of produce.