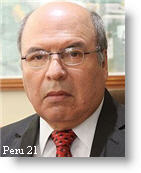 Peru's government has accepted the resignation of a high-ranking government official who was linked in a media report to illegal gold mining.
Luis Zavaleta, the former director general of hydrocarbons, submitted his resignation to the Ministry of Energy and Mines on Friday, daily Peru.21 reported.
The resignation followed an investigative report published in newspaper El Comercio on the same day that said Zavaleta owned a company called Universal Metal Trading SAC.
Universal Metal Trading was founded in 1999 and describes itself as a company that buys and sells "all types of precious metals,"  and includes the "manufacturing of gold objects for export and commercialization," El Comercio reported.
In 2011, the company, which does not actually produce any gold, exported 19.2 tons of the precious metal for a value of $901 million, according to tax agency Sunat. That is more than Peru's biggest publicly traded precious metals miner, Compania de Minas Buenaventura.
Universal Metal Trading caught the eye of authorities because two offices of the company allegedly have ties to mafias that produce gold illegally. The offices are located in Puerto Maldonado, the capital of the jungle region of Madre de Dios, and Huepetuhe, also located in Madre de Dios. Both towns are major connections for the illegal gold mining industry.
Authorities have been investigating the ties between Universal Metal Trading and illegal gold miners.
Prime Minister Oscar Valdes said Friday that he was sorry the government had not detected the connection before.
"We have demanded his resignation, he is no longer a civil servant," said Valdes. "Public servants cannot have these double roles."
Zavaleta had reportedly held public positions in the petroleum sector since the 1970s.
Illegal mining in Madre de Dios has caused widespread environmental harm, serious social problems, and evades millions of dollars in unpaid taxes. Government efforts to gain control over the activity have been met with violent protests. The most recent protests led to the deaths of three people in Puerto Maldonado.  The federation of the gold miners has, however, agreed to sit down with the government and begin to comply with new legislation.