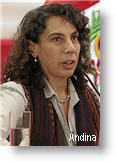 Peru's government expects to have enrolled almost 300,000 people by next year, in a state-funded pension for all citizens over 65 who have no other pension source and live in extreme poverty, a top official said Wednesday.
Carolina Trivelli, Peru's Minister of Social Development and Inclusion, said the program, known as Pension 65, will have a budget of 453 million soles (about $175 million) in 2013, which is an 87 percent increase from this year.
Trivelli said that by 2016, the program aims to have enrolled 378,000 people, which she says would attend to all of those who qualify for the pension payments, state news agency Andina reported.
Pension 65 falls within President Ollanta Humala's campaign promises to increase social programs for low-income citizens in the Andean country. These people are among those who have not seen the benefit of Peru's robust economic growth during the past decade, and Humala says the programs are important to promote "social inclusion." About 30 percent of Peru's population lives in poverty.
Individuals who qualify for Pension 65 receive 250 soles every two months, a nominal amount that is considered a subsidy. The distribution areas are Lima, Callao, the Ayacucho region and 12 other regions.